Welcome!!!

FIRST PRESBYTERIAN CHURCH of JOHNSTOWN
37 South Market St., Johnstown, New York 12095
Phone: (518) 762-8263 — Fax: (518) 762-2981
The Reverend Leonard Sponaugle, Pastor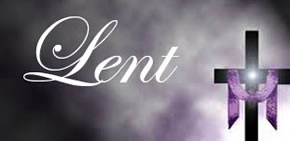 LENT BEGINS — ASH WEDNESDAY
Use Clinton Street Entrance
WORSHIP begins at 7:00PM in the Knox Chapel
on Wednesday, March 6

LENTEN FAITH SHARING & POTLUCK SUPPER
Please bring a dish to share.
How do we cope with pain & suffering?
The series begins on Wednesday, March 13 at 6:00pm and will take place the following four Wednesdays. This Lenten season we will focus on how we respond to suffering and pain. We will engage a handful of the most prominent working theologians today. Each session will begin with a potluck dinner (please bring a dish to share) followed by a brief video presentation leading into a group discussion. We will conclude each session at 7pm.

NEWS FROM THE PASTOR
CLICK HERE to read a special message from Pastor Leanard to the congregation.
SUNDAY WORSHIP SCHEDULE
Handicap access via Clinton Street entrance — elevator available
WORSHIP begins at 10:30 A.M.
Choir Rehearsal:
9:30 am
Coffee Available
: 10:00 am
Children's Church School
: Sundays September - Mid-June at 10:30 am
Nursery Care Provided at all Services from 10:00 - 11:30 am
In case of inclement weather, the closing of church or other activities
will be announced on WENT (1340AM) or on the church answering machine
(762-8263)
Handicap access via Clinton Street entrance — elevator available
OFFICE HOURS
Monday / Wednesday / Friday —
8:30am to 12:30pm
Tuesday / Thursday — 12:45pm to 4:45pm
Email for Pastor Leonard: pastor@johnstownpresbyterian.org
Email for Office: office@johnstownpresbyterian.org
"Like Us" on Facebook: @johnstownfirstpresbyterian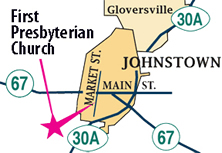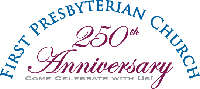 CLICK HERE
for 250th Anniversary Stories and Photos