Welcome!!!

FIRST PRESBYTERIAN CHURCH of JOHNSTOWN
37 South Market St., Johnstown, New York 12095
Phone: (518) 762-8263 — Fax: (518) 762-2981
The Reverend Leonard Sponaugle, Pastor



SUNDAY WORSHIP SCHEDULE
Handicap access via Clinton Street entrance — elevator available
WORSHIP begins at 10:30 A.M.
Choir Rehearsal: 9:15 am
Coffee Available: 10:00 am
Children's Church School: Sundays September - Mid-June at 10:30 am
Nursery Care Provided at all Services from 10:00 - 11:30 am

In case of inclement weather, the closing of church or other activities
will be announced on WENT (1340AM) or on the church answering machine
(762-8263)

Email for Pastor Leonard: pastor@johnstownpresbyterian.org
Email for Office: office@johnstownpresbyterian.org
Email for Director of Christian Ed: helen@johnstownpresbyterian.org
"Like Us" on Facebook: @johnstownfirstpresbyterian




OFFICE HOURS
Monday / Wednesday / Friday — 8:30am to 12:30pm
Tuesday / Thursday — 12:45pm to 4:45pm
Adult Christian Education is moving to Thursdays at Noon in the Knox Room

LENT BEGINS MARCH 1
ASH WEDNESDAY
Pot Luck Dinner at 6pm followed by Worship at 7pm in the Knox Room

EASTER FLOWERS
CLICK HERE for order infromation and order form.
Orders due April 2.
POT LUCK SUPPER & PRESENTATION APRIL 1
On Saturday, April 1 at 5:00p.m. the Men's Group will host a pot luck dinner for the congregation followed by a slide show presentation in the Knox Room by Ron Custer and Oakley Cole about their Church Mission to Mozambique. (Please bring your own table setting.)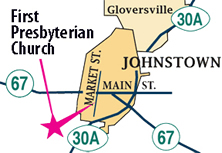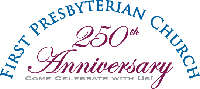 CLICK HERE
for 250th Anniversary Stories and Photos