Welcome!!!

FIRST PRESBYTERIAN CHURCH of JOHNSTOWN
37 South Market St., Johnstown, New York 12095
Phone: (518) 762-8263 — Fax: (518) 762-2981
The Reverend Leonard Sponaugle, Pastor

SUNDAY WORSHIP SCHEDULE
Handicap access via Clinton Street entrance — elevator available
WORSHIP begins at 10:30 A.M.
Choir Rehearsal: 9:30 am
Coffee Available: 10:00 am
Children's Church School: Sundays September - Mid-June at 10:30 am
Nursery Care Provided at all Services from 10:00 - 11:30 am
In case of inclement weather, the closing of church or other activities
will be announced on WENT (1340AM) or on the church answering machine
(762-8263)
OFFICE HOURS
Monday / Wednesday / Friday — 8:30am to 12:30pm
Tuesday / Thursday — 12:45pm to 4:45pm
Email for Pastor Leonard: pastor@johnstownpresbyterian.org
Email for Office: office@johnstownpresbyterian.org
"Like Us" on Facebook: @johnstownfirstpresbyterian


KICK-OFF SUNDAY
Sunday, September 9
10:00 a.m. Coffee & Donuts
10:30 Worship
11:30 Potluck
(Hotdogs, condiments, beverages will be provided.
Please bring a salad or side dish or dessert to share.)

CHILDREN'S EDUCATION BEGINS
Sundays, 10:45 am - 11:30 am, beginning September 23.
Classes will not be held on the Sunday after Thanksgiving or on the Sunday after Christmas.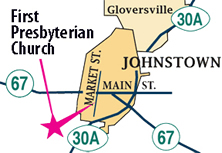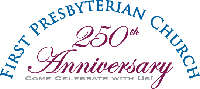 CLICK HERE
for 250th Anniversary Stories and Photos