CHURCH SCHOOL AT FIRST PRESBYTERIAN
Church School meets from September - May during our 10:30am Worship Service.
Children begin the morning in the sanctuary as part of the congregation and are dismissed
from the regular service to their respective classes following "Moments with our Children."

Children's Education:
Sundays, 10:45 am - 11:30 am. Classes will not be held on the Sunday after Thanksgiving or on the Sunday after Christmas.
This year we are using the curriculum resource, Holy Moly. It teaches via persons / characters (Abraham, Jesus, etc.) in both Testaments in the Bible. It includes kids using their Bibles, a hands-on activity, and a video component.

Please consider teaching our young people. You may sign up for any number of Sunday's that fit your schedule, there are still slots open. The sign-up for that is also in the Knox Room.

We always have room on the Christian Education committee for more people to share in the educa-tion of our youth. The more people we have the more ideas to make church school a nurturing experience for our youth.
VACATION BIBLE SCHOOL (VBS) planning meeting will be on Saturday, June 22 at 10am. "ROAR! Life is wild * God is good" is the name of this year's program. This year we are trying something new for children and families by offing an Evening Bible School.
—Liz Custer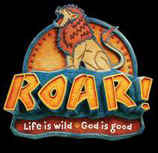 NURSERY
The Nursery is now located on the main floor across from Knox Chapel/Multi-Purpose Room.
The Nursery will open Sundays at 10:00 am and close at 11:30am.
Jesus said, "Let the little children come to me, and do not hinder them,
for the kingdom of heaven belongs to such as these."
— Matthew 19:14, NIV