THE MISSION STUDY TEAM (MST)
Where have we come from? Who are we now? What do we become?
These are the questions the MST will focus when they meet over the next few months. God has blessed us with a wonderful church and now we want to move forward to serve the next generation.
Two Session members, Brett Dening and Mona Cole, and two other members of our congregation, Carol Larter and Craig Talarico, have volunteered to be the Mission Study Team. Please include them in your prayers as they move forward with this very important project.
NEW SOUND SYSTEM & LIVE STREAMING UPGRADES
A Memorial to Roger Ritzmann
Contact the church office if you are interested in being trained on the equipment in order to help with this vital ministry.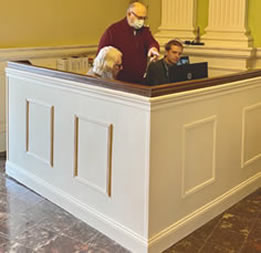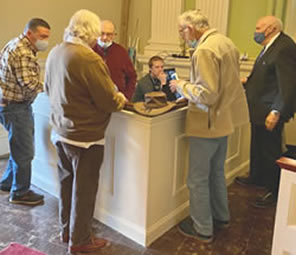 THE HALF WALL
Special thanks to Ron Custer and Ron Chizek for building a half wall to house our new sound and streaming equipment in the sanctuary.
Also, thanks to Brett Dening for helping to re-wire the bell and clock tower so we can get it up and running again!

Thanks to each person helping out with the THRIFT STORE and with the FREE COMMUNITY LUNCHES.

OUR STAFF SERVING YOU
Rev. G. W. Blake Blakesley, Pastor
Belinda Vair, Organist and Choir Director
Dawn Austin-Coletti, Office Administrator
Laura Ruehle, Treasurer
Rev. Carter B. Adriance, Congregational Associate
Thomas Ruehle, Clerk of the Session
Edward Leitt, Custodian

OUR CHURCH OFFICERS
Session
Brett Dening (2021)
Jerry Meador (2021)
Craig Talarico (2021)
Linda Hinkle (2022)
Walter Lane (2022)
Mona Cole (2023)
Thomas Ruehle, Clerk (2023)
Deacons
Donna VanAernam, Chair (2022)
Emily Dening (2021)
Brenda Meador (2021)
Sue Peck (2022)
Sharon Ritzmann (2022)
Donna Chizek (2023)
Dan Malmborg (2023)
Clerk of Session
Thomas Ruehle
Treasurer
Laura Ruehle
SESSION COMMITTEES
Administration, Personnel & Finance
Walter Lane, Chair
Jim Hinkle
Carol Larter
Brenda Meador
Sue Peck
Laura Ruehle, Treasurer
Structure, Building & Grounds
Jerry Meador, Chair
Linda Hinkle, Chair
Ron Chizek
Oakley Cole
Ron Custer
Sandra Lane
Thomas Ruehle
Education, Fellowship & Worship
Craig Talarico, Chair
Emily Dening
Carol Hadcock
Sharon Ritzmann
Donna VanAernam
Belinda Vair, Organist & Choir Director
Mission & Outreach
Brett Dening, Co-Chair
Liz Custer, Co-Chair
Ruth Carey
Ron Custer
Carol Hadcock
Sharon Ritzmann
Nominating
Thomas Ruehle, Chair
Sue Peck, Deacon
Ruth Carey (2021)
Ron Chizek (2021)
Laura Ruehle (2021)
WHEN TO CALL THE PASTOR
Never quite sure when to call the Pastor?
Below is a list of occasions when the Pastor might be helpful:
When there is a serious illness
Before hospitalization or surgery
When a new baby has arrived
When death has occurred
When you are anxious about someone else
When a young person is about to leave home
When there are domestic troubles
When you face a difficult decision
When you are bothered about your Christian faith
When you are thinking about getting married
When you want to make your life count for more
Other ...
In doubt as to whether or not to call? PLEASE CALL!!
If you do not call, we do not know.
Church Office — 518-762-8263
If you have an immediate need,
call Pastor Blake on his cell phone at 267-994-6758.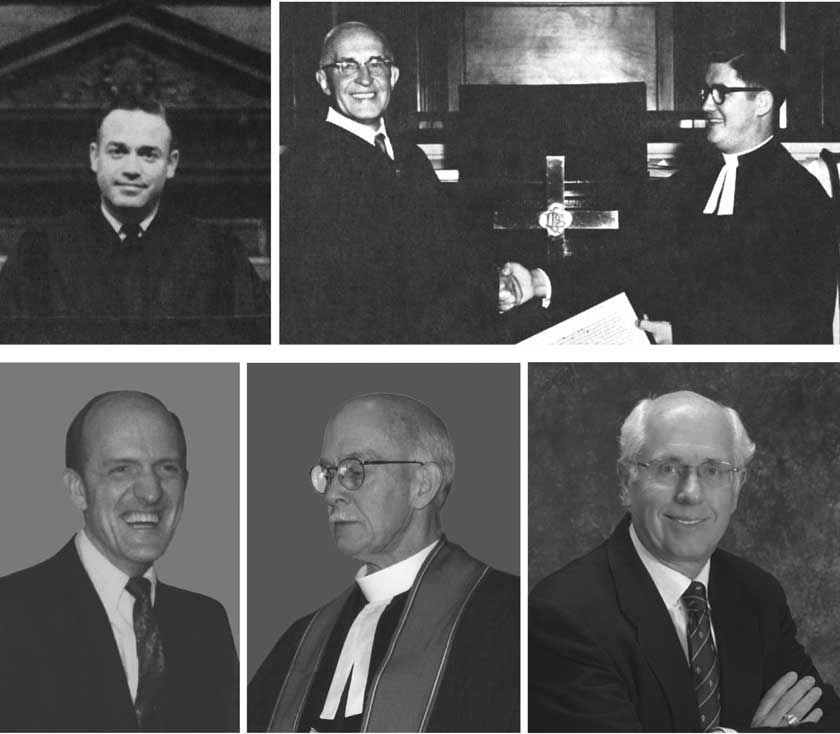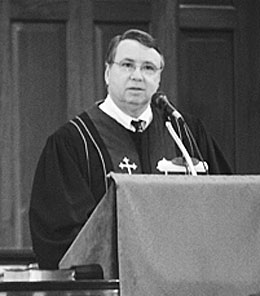 PASTORS of FIRST PRESBYTERIAN CHURCH, Johnstown, NY
TOP LEFT—Reverend Robert S. Magee, 1965
TOP RIGHT— Reverend Raymond A. Ketledge (1929-1957), pastor-emeritus,
and Reverend Nathaniel T. Goodwin, October 9, 1960,
after the formal presentation of the title
CENTER LEFT—Reverend E. Elwood Carey, 1969-1985
CENTER MIDDLE—Reverend Barry Paul Murr, 1986-1996
CENTER RIGHT—Dr. Earl S. Johnson, Jr., 1998-2011
LOWER LEFT —Reverend Leonard Sponnaugle, 2014-2019