BELOW: Brett Dening plays carillon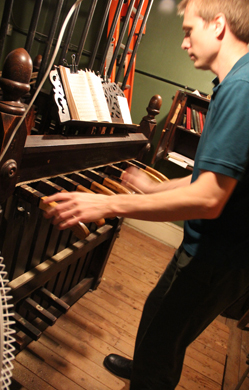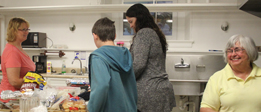 ABOVE: Preparing Meals to Share
BELOW: Ron Chizek, Works on multi-media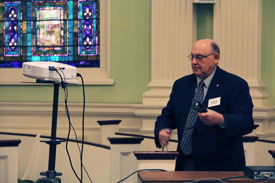 SESSION COMMITTEES

ADMINISTRATION,
PERSONNEL, FINANCE & STEWARDSHIP
Carol Larter, Chair
Jim Hinkle
Brenda Meador
Sue Peck
Laura Ruehle, Treasurer
Jane Smith
STRUCTURE, BUILDING & GROUNDS
Jerry Meador, Co-chair
Tom Ruehle, Co-chair
Ron Chizek
Oakley Cole
Ron Custer
Linda Hinkle
Sandy Lane

EDUCATION, FELLOWSHIP & WORSHIP
Liz Custer, Co-Chair
Craig Talarico, Co-Chair
Emily Dening
Carol Hadcock
Sharon Ritzmann
Jane Smith
Helen Thompson
Belinda Vair, Organist
Donna VanAernam
MISSION & OUTREACH
Brett Dening, Co-Chair
Carol Hadcock, Co-Chair
Ruth Carey
Liz Custer
Ron Custer
Sharon Ritzmann
Helen Thompson
NOMINATING
Tom Ruehle, Session Clerk
Vice Moderator
Ruth Carey (2021)
Donna Chizek (2021)
Mona Cole (2021)
5 members from the congregation

FIRST PRESBYTERIAN CHURCH
37 S. Market St., Johnstown, NY 12095
Ph: 518.762.8263 Fax: 518.762.2981
Email: office@johnstownpresbyterian.org
Serving You
OUR STAFF SERVING YOU
Belinda Vair, Organist and Choir Director
Joanne Freeman, Secretary
The Reverend Carter B. Adriance, Congregational Associate
Shirleen Farrar, Custodian

CHURCH OFFICE HOURS
Monday / Wednesday / Friday — 8:30am to 12:30pm
Tuesday / Thursday — 12:45pm to 4:45pm
OUR CHURCH OFFICERS
Session
Elizabeth Custer (2020)
Brett Dening (2021)
Carol Hadcock (2019)
Carol Larter (2019)
Jerry Meador (2021)
Tom Ruehle (2020), Clerk of Session
Craig Talarico (2021)
Deacons
Betsy Camarra (2020)
Ron Custer (2020)
Emily Dening (2021)
Brenda Meador (2021)
Sue Peck (2019)
Sharon Ritzmann (2019)
Helen Thompson (2020)
Treasurer
Laura M. Ruehle

SESSION REQUESTS YOUR HELP
The Session will be appointing a committee to find us an Interim Pastor. The Congregation will elect the Pastor Nominating Committee at a later date, after we have done some work with the Interim. If you are interested in serving on either committee, please let one of the Session members know and your name will be put on the list for later consideration.
—Tom Ruehle, Clerk
We will be having guest/supply ministers for the next few months. It would be wonderful if there were someone to greet our guest on Sunday morning and show him/her around and an-swer any questions that they might have. It would also be wonderful if we could have more liturgists to help our guest preachers through the order of our worship. If you would be interested in either activity, please sign up in the Knox Room. There is already a sign-up for liturgists and there will be also be a sign up for greeter. You may do one or the other or both if you are so inclined.

CHRISTIAN EDUCATION, FELLOWSHIP & WORSHIP
Our next meetings will be May 5 after refreshment timefor Education Committe.
Next Worship & Music Committee meeting will be on Tuesday, April 2 at 7pm.
EDUCATION— Christmas Box items are needed each given month. You will see that each month we will focus on different items to donate, with the last donation in November being the $9.00 to cover the cost of mailing thebox. You can put your donations around the Christmas tree before Service on Sundays.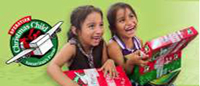 Christmas Shoe Boxes
May's items are: Hygiene Items (Combs, Hair Brush, Toothbrush, Washcloth, Bar of Soap (unscented)
WORSHIP & MUSIC— We will be having guest/supply ministers for the next few months. It would be wonderful if there were someone to greet our guest on Sunday morning and show him/her around and an-swer any questions that they might have. It would also be won-derful if we could have more liturgists to help our guest preachers through the order of our worship. If you would be interested in either activity, please sign up in the Knox Room. There is already a sign-up for liturgists and there will be also be a sign up for greeter. You may do one or the other or both if you are so inclined.

—Liz Custer & Craig Talarico

MISSION & OUTREACH
Mission of the Month for May will bePresbyterian Disaster Fund.
Presbyterian Disaster Assistance enables congregations and mission partners of the Presbyterian Church (U.S.A.) to witness to the healing love of Christ through caring for communities adversely affected by crises and catastrophic events.
Learn more by clicking
HERE.

—Brett Dening & Carol Hadcock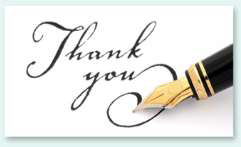 FROM: Church World Service

ADMINISTRATION, FINANCE & PERSONNEL COMMITTEE
The committee will be meeting Tuesday, May 7 at 6:00pm.
—Carol Larter

STRUCTURE, BUILDINGS AND GROUNDS
Here are a few Important items to share:
• During the past month or two the different committee members have been busy painting and touching up Fellowship hall and other area's of the church building. And the carpet runners throughout the church have been cleaned for spring.
• Spring landscaping clean up and landscaping will be starting soon.
• Our NEW meeting DAY & TIME will be the fourth Tuesday of the month at 7:00p.m., Our next meeting will beon Tuesday, May 28 at 7pm.
—Jerry Meador & Tom Ruehle

DEACONS' NOTES
We as the people of our church should remember Galatians 5:13-14
" You, my brothers and sisters, were called to be free. But do not use your freedom to indulge the flesh; rather, serve one another humbly in love. 14For the entire law is fulfilled in keeping this one command: "Love your neighbor as yourself."
With that said please remember that while we go through this tough time looking for another pastor we should hold each other close and help whenever we can. Through this time, we as deacons of the church are here in any capacity needed. Please come to us for anything at any time.
In new news we are thinking of another social gathering to bring us closer together. Any ideas are surely welcome.
With love and prayers for us as we search for our future:
Vice Moderator
Helen Thompson
Education, Fellowship
Our next meeting will be on Tuesday, May 1 at 6:30pm..

Pink & Blue—Boy or Girl
As in the past the deacons have honored parents, grandparents and great grandparents announcing the birth of the newest member of their family. Please let Joanne in the office know of the birth or Carol Hadcock, so the rose can be ordered.
—Donna VanAernam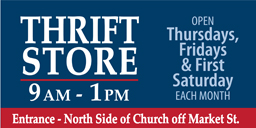 The thrift store is doing well, but we really need more help. Just four hours now and then. You won't believe the big difference giving a few hours a month makes.
The job description is as follows:
1. Open the store
2. Sit by the desk
3. Assist customers
4. Cash them out
5. Close the store at the end of the day.
Please consider signing up to help, you can find the sign-up sheet on the side table in the Knox Chapel.
—Mona Cole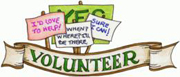 COMMUNITY FREE LUNCH PROGRAM
Our Free Lunch to the neighborhood has expanded from one Saturday a month to two Saturdays each month! This is wonderful! This program / ministry is making a difference in our neighborhood. It is not just food that people are receiving. The companionship around the table is a joy to see and experience.
Of course, another benefit to this expansion is another opportunity for you to participate in mission. Please prayerfully consider helping out at our free lunch program and contact Helen Thompson for details.
—Helen Thompson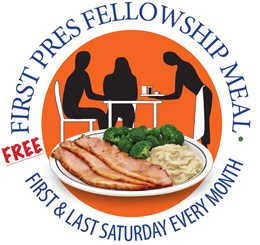 WHEN TO CALL THE PASTOR

Never quite sure when to call the Pastor?
Below is a list of occasions when the Pastor might be helpful:
When there is a serious illness
Before hospitalization or surgery
When a new baby has arrived
When death has occurred
When you are anxious about someone else
When a young person is about to leave home
When there are domestic troubles
When you face a difficult decision
When you are bothered about your Christian faith
When you are thinking about getting married
When you want to make your life count for more
Other ...
In doubt as to whether or not to call?
PLEASE CALL!!
If you do not call, we do not know.
Church office — 762-8263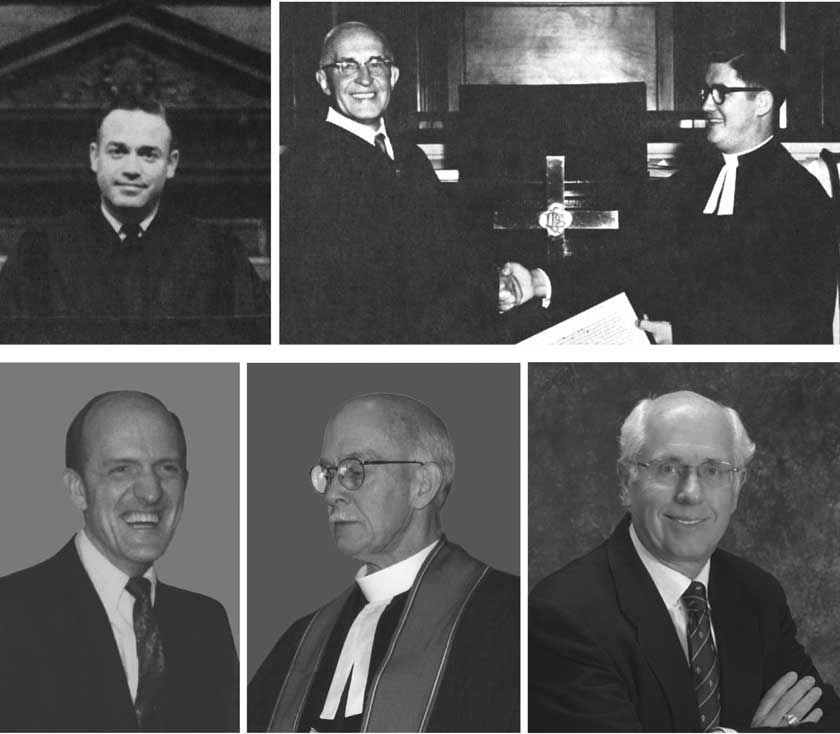 PASTORS OF FIRST PRESBYTERIAN CHURCH, Johnstown, New York
TOP LEFT—Reverend Robert S. Magee, 1965
TOP RIGHT— Reverend Raymond A. Ketledge (1929-1957), pastor-emeritus,
and Reverend Nathaniel T. Goodwin, October 9, 1960,
after the formal presentation of the title
LOWER LEFT—Reverend E. Elwood Carey, 1969-1985
LOWER CENTER—Reverend Barry Paul Murr, 1986-1996
LOWER RIGHT—Dr. Earl S. Johnson, Jr., 1998-2011