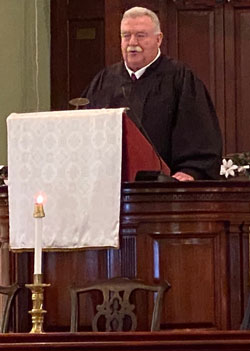 REV. GW "BLAKE"
BLAKESLEY
has been a pastor for more than 35 years serving churches in Indiana, Iowa, Pennsylvania, Colorado, Wisconsin, and now in Johnstown as the interim pastor of First Presbyterian Church.

Through the years, he and his wife, Lynn have led more than 30 mission trips with up to 150 youth and adults all over North America including Alaska, Mexico, and Nova Scotia. He has traveled to the Middle East on missions of peace on two separate occasions with Christian, Muslim, and Jewish leaders. Formerly, he was Senior Pastor of the 1,000 member Presbyterian Church in Newtown, PA and he initiated an active Prison Ministry in the North Philadelphia area of Bucks County and later in Durango, CO.

He has served as the Moderator of the Presbytery of Philadelphia and as Presbytery Cluster Leader in the Presbytery of Western Colorado as well as chairing the Committee on Ministry in both Philadelphia and Colorado.

Blake is an avid banjo and guitar player as well as a song leader. He holds a BA from Grinnell and Simpson College and an MDiv from Christian Theological Seminary. Lynn has served as a Family and Consumer Science High School teacher in New Jersey, Pennsylvania, and Colorado. Prior to coming to Johnstown, Blake served as interim pastor for the First Presbyterian Church of Shawano, Wisconsin for 2½ years where Lynn worked for Safe Haven Women's shelter and volunteered for SAM25 homeless shelter.

Lynn and Blake have raised 3 children and are blessed with five grandchildren.
Pastor Blake conducts
worship services each month at WELLS HOUSE.
If you would ever like to join him,
let him know and he can arrange for you to attend.


Thanks to each person helping in the THRIFT STORE and with the FREE COMMUNITY LUNCHES!
BELOW: The choir is back!
Contact Belinda Vair to join.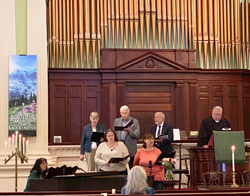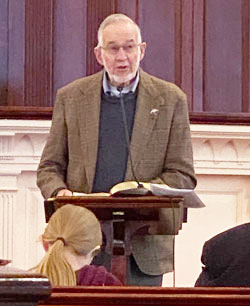 ABOVE: Walt reads scripture during worship
BELOW: Oakley helps with clean up
in the kitchen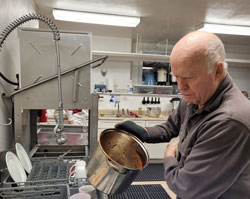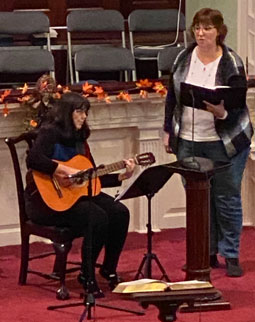 ABOVE: Belinda and Helen sing
"Here I am Lord."
BELOW: Jim and Brett discuss some of the new audio/video equipment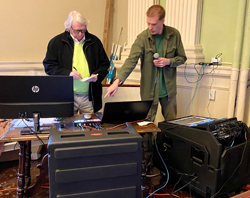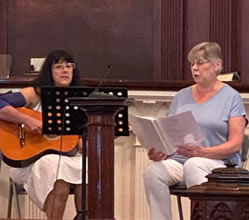 ABOVE: Belinda and Liz treat the congregation with a duet
BELOW: Tom Ruehle, worship leader,
is our Clerk of Session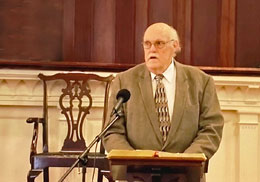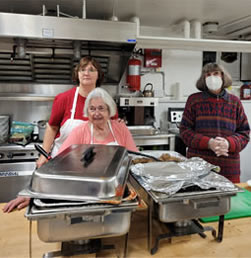 ABOVE: Helen, Mona and Jahann
prepare food for the election night spaghetti dinner.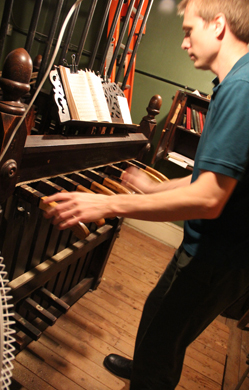 ABOVE: Brett plays the Knox Chimes
BELOW: Ron Chizek prepares for a
multi-media presentation