Christian Fellowship




Luncheon attendees on April 29 were treated to food by the Deacons and music by Aaron Mittler

NEW CENTURY WOMEN
The first meeting for the group was held on September 19 at 5:30p.m.
The next meeting will be October 16 at 5:30pm. We look forward to seeing you.
— Donna Chizek

MEN'S GROUP
There was no Men's Group meeting during September.
There will be a meeting on October 17 at 6pm.
Our meeting will include a presentation about the tragedy of the increased suicide rate among veterans. In addition to the presentation, practical resources will be given out so that you will be prepared to offer help to veterans in distress.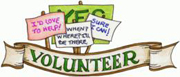 SPAGHETTI DINNER SUPPORT NEEDED
Starting on Sunday October 15 and each Sunday through November 5 we will be selling tickets to the Election Day Spaghetti Supper and also will have a donation jar available in the back of the Sanctuary for cash donations. Advance tickets and donations can also be made by sending a check to the church. Please let your family, friends and neighbors know about the dinner and how it supports the local community. Thank you for your support.
— Ron Chizek

CHANCEL FLOWERS
Thank you to everyone who participates in placing a flower arrangement for our Sunday Services. The following dates are still open:
December 30 and January 20
If you would like to remember or honor someone on either of these dates, please let me know.
Blessings,
— Carol Hadcock, Flower Chairperson
Pink & Blue—Boy or Girl
As in the past the deacons have honored parents, grandparents and great grandparents announcing the birth of the newest member of their family. Please let Joanne in the office know of the birth or Carol Hadcock, so the rose can be ordered.
FLASHES FROM THE PAST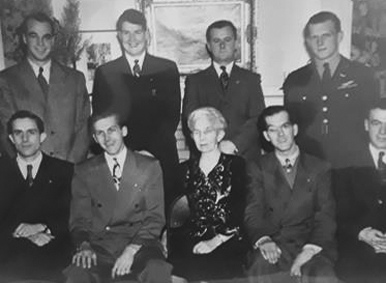 ABOVE: Our own Mrs. Alice Moore— front row, center.
Does anyone recognize any of the others?

BELOW: Easter egg coloring in the basement of the First Presbyterian Church
in Johnstown in an undated photo from Ted Kralovic's facebook post.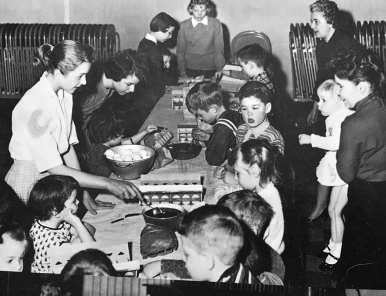 You can see these photos were taken before the stained glass windows were put in!
As posted on Facebook 8/15/17 on
" You're probably from Johnstown, NY if you remember"

A few more "found treasures" ... photos circa 1908-10 -showing my great grandfather, Peter C. MacIntyre and his wife riding with my infant father, James C. MacIntyre. Peter kept his horses in the barn at 11 East State (his home and where I grew up).

Center photo shows First Presbyterian church (corner of Clinton and South Market) and the Johnstown library in background.
— James MacIntyre, Charlotte, NC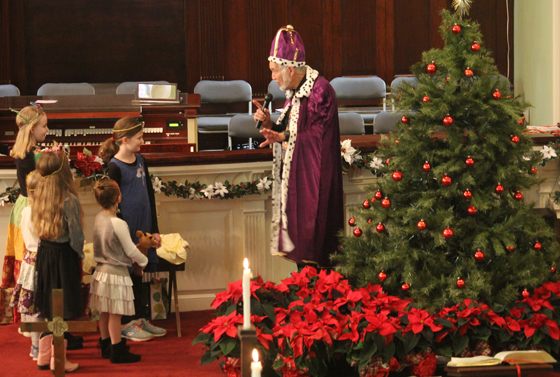 The children's Christmas Pageant was presented on December 17.




The Children's Easter Pageant "M&M's".




Photo taken at last year's holiday church dinner at Union Hall Inn.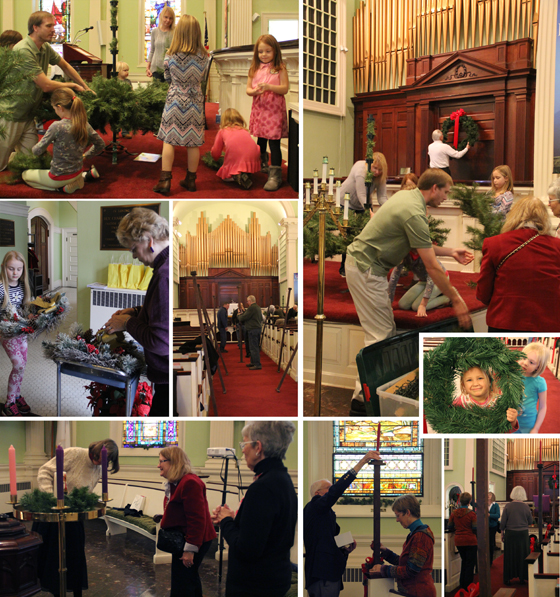 ELIZABETH CADY STANTON PAINTING FINDS NEW HOME
A painting done by Leslie Carsky Dickerson has been loaned to First Presbyterian Church by the Johnstown Public Library. The Elizabeth Cady Stanton portrait was created to spark more interest and pride in this Fulton County native and member of our church.

Elizabeth Cady Stanton (1815-1902) set the agenda for the first Women's Rights Convention in Seneca Falls, New York and spent most of her life working to enfranchise women in the political process. To fully appreciate her courage and accomplishments, one has to remember the times in which she lived. When she began to speak in public it was viewed as immoral. At that time a woman was not allowed to attend college, own property if married, vote, be on a jury, have legal custody of her own children nor divorce her husband on grounds of abuse or abandonment. And when Cady Stanton stood up for the rights of women she was vilified for doing so. She persevered because of her passion, intelligence and will. She was an inspiring woman of action whose struggle helped solidify human rights for all Americans.

PHOTOS IN FELLOWSHIP HALL

The current display of Maryde King's wild flower photos in Fellowship Hall depicts alien wildflowers, i.e. flowers that are growing uncultivated in the wild, but are not native to the area as are true wildflowers. These are wildflowers brought here from other lands, sometimes in the hay the early settlers brought to feed their livestock, sometimes purposefully brought for medical or other useful purposes, and some are garden escapes, plants brought over from someone's garden that "went wild".
—Maryde and Larry King
OPPORTUNITIES FOR FUN AND FELLOWSHIP
EVERY SEASON!
First Presbyterian Church of Johnstown has an active Youth Group with special projects and events throughout the school year. One fun event was sledding.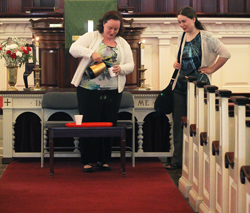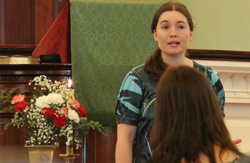 The New Covenant Players tell stories through a series of short dramatic
presentaions during worship