Christian Fellowship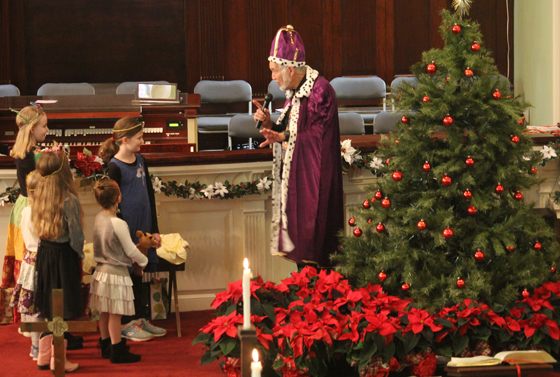 The children's Christmas Pageant was presented on December 17.

NEW CENTURY WOMEN
The group will meet on January 16 at 5:30p.m. We look forward to seeing you..
— Donna Chizek

MEN'S GROUP
Men's Group next meeting will be on January 17 at 6pm.

CHANCEL FLOWERS
Thank you to everyone who participated in placing a flower arrangements for our Sunday Services.
The Flower list for 2018 flowers— anyone who wishes to sign up or change a date, please let me know.
Blessings,
— Carol Hadcock, Flower Chairperson
RE-DEDICATION of the MILDRED E. REESE MEMORIAL STONE
July 23
On July 23 we gathered in front of the church building and re-dedicated a memorial stone.
Years ago, one of my (Leonard's) classmates in seminary wrote in a Christmas letter, "So, we left Elko, NV for my new call leaving Maddy's marker behind."
Those words have stayed with me. After seminary one of their children had died and they buried her body in a cemetery in Elko. Often we ground our past and important memories in a specific place. I think it is a way of not letting something we care about become diffuse in our hearts and minds. Knowing that a loved one's body is in a specific place somehow firms up our memory of them.
And it is not only the resting places of bodies. Consider how healing it was to put every name of a lost military member on the Vietnam Memorial Wall.
Because of the waxing and waning of decorative landscaping at the church, we have moved Mildred E. Reese's Memorial Stone to the new garden space at the front entrance. Because of the significance of remembering loved ones, it is important that we take the time to remember her again.
FLASH FROM THE PAST


You can see these photos were taken before the stained glass windows were put in!
As posted on Facebook 8/15/17 on
" You're probably from Johnstown, NY if you remember"

A few more "found treasures" ... photos circa 1908-10 -showing my great grandfather, Peter C. MacIntyre and his wife riding with my infant father, James C. MacIntyre. Peter kept his horses in the barn at 11 East State (his home and where I grew up).
Center photo shows First Presbyterian church (corner of Clinton and South Market) and the Johnstown library in background.
— James MacIntyre, Charlotte, NC




The Children's Easter Pageant "M&M's".




Photo taken at last year's holiday church dinner at Union Hall Inn.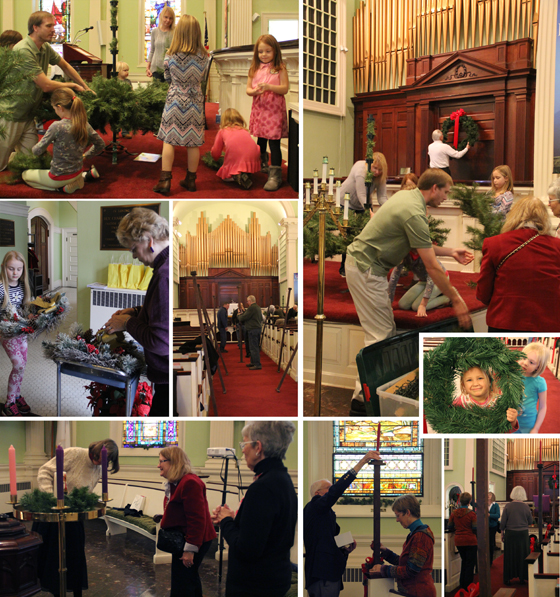 ELIZABETH CADY STANTON PAINTING FINDS NEW HOME
A painting done by Leslie Carsky Dickerson has been loaned to First Presbyterian Church by the Johnstown Public Library. The Elizabeth Cady Stanton portrait was created to spark more interest and pride in this Fulton County native and member of our church.

Elizabeth Cady Stanton (1815-1902) set the agenda for the first Women's Rights Convention in Seneca Falls, New York and spent most of her life working to enfranchise women in the political process. To fully appreciate her courage and accomplishments, one has to remember the times in which she lived. When she began to speak in public it was viewed as immoral. At that time a woman was not allowed to attend college, own property if married, vote, be on a jury, have legal custody of her own children nor divorce her husband on grounds of abuse or abandonment. And when Cady Stanton stood up for the rights of women she was vilified for doing so. She persevered because of her passion, intelligence and will. She was an inspiring woman of action whose struggle helped solidify human rights for all Americans.

PHOTOS IN FELLOWSHIP HALL

The current display of Maryde King's wild flower photos in Fellowship Hall depicts alien wildflowers, i.e. flowers that are growing uncultivated in the wild, but are not native to the area as are true wildflowers. These are wildflowers brought here from other lands, sometimes in the hay the early settlers brought to feed their livestock, sometimes purposefully brought for medical or other useful purposes, and some are garden escapes, plants brought over from someone's garden that "went wild".
—Maryde and Larry King
OPPORTUNITIES FOR FUN AND FELLOWSHIP
EVERY SEASON!
First Presbyterian Church of Johnstown has an active Youth Group with special projects and events throughout the school year. One fun event was sledding.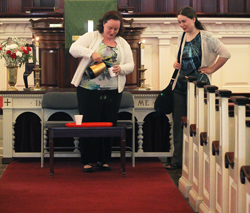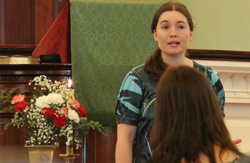 The New Covenant Players tell stories through a series of short dramatic
presentaions during worship