Christian Fellowship
SUNDAY SUMMER BRUNCH WITH A TWIST
July 9 and August 6
Anyone interested can join other members of the church for Sunday Brunch at a local restaurant after church.
How does it work?
Anyone interested in going to Brunch on July 9 and/or Aug 6 will write their names
on a slip of paper which will be placed in the box for a lottery drawing.
The number of slips in the box will determine on how many groups there will be. Names will be pulled from the box and each group will choose a local restaurant for their group to go for Brunch (*everyone pays for their own meal)
So, if you'd like to have brunch and get to know each other a little better, SIGN UP!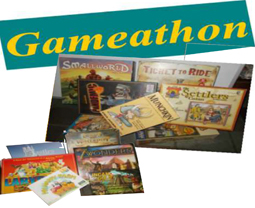 SUMMER GAMEATHON —
6 PM, FRIDAYS JUNE 9 & 23 AND JULY 7 & 21
Spend your summer nights sitting around watching reruns of reality TV
OR...
Bring some friends or make new ones while playing board games.
Try something on hand or bring your own favorites.
ALL ARE WELCOME

NEW CENTURY WOMEN
Meetings will resume in the fall.
— Donna Chizek

MEN'S GROUP
On Wednesday, May 17 the Men's Group hosted a pot luck dinner in Fellowship Hall at
6 p.m. Don't forget the next meeting will take place at House of Pizza in Gloversville at
6 p.m. on June 21. Wives and friends are invited to attend as well.
— Ron Chizek

CHANCEL FLOWERS
Thank you to everyone who participates in placing a flower arrangement for Sunday Service.
— Carol Hadcock, Flower Chairperson
BOOK BUDDIES
The book for May is"House Rules" by Jodi Picoult.
If you think, you may be interested in joining us, this looks like a great book to start with.
We will be meeting on May 30 at 6:30. Hope to see you there.
— Helen Thompson


The Children's Easter Pageant "M&M's".




Photo taken at holiday church dinner at Union Hall Inn.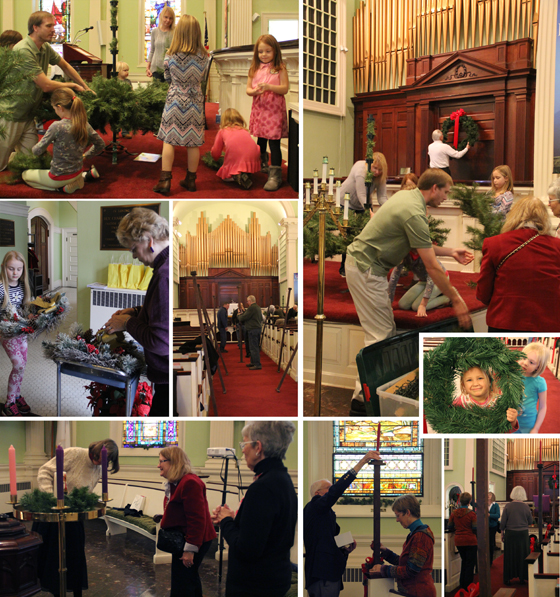 ELIZABETH CADY STANTON PAINTING FINDS NEW HOME
A painting done by Leslie Carsky Dickerson has been loaned to First Presbyterian Church by the Johnstown Public Library. The Elizabeth Cady Stanton portrait was created to spark more interest and pride in this Fulton County native and member of our church.

Elizabeth Cady Stanton (1815-1902) set the agenda for the first Women's Rights Convention in Seneca Falls, New York and spent most of her life working to enfranchise women in the political process. To fully appreciate her courage and accomplishments, one has to remember the times in which she lived. When she began to speak in public it was viewed as immoral. At that time a woman was not allowed to attend college, own property if married, vote, be on a jury, have legal custody of her own children nor divorce her husband on grounds of abuse or abandonment. And when Cady Stanton stood up for the rights of women she was vilified for doing so. She persevered because of her passion, intelligence and will. She was an inspiring woman of action whose struggle helped solidify human rights for all Americans.

PHOTOS IN FELLOWSHIP HALL

The current display of Maryde King's wild flower photos in Fellowship Hall depicts alien wildflowers, i.e. flowers that are growing uncultivated in the wild, but are not native to the area as are true wildflowers. These are wildflowers brought here from other lands, sometimes in the hay the early settlers brought to feed their livestock, sometimes purposefully brought for medical or other useful purposes, and some are garden escapes, plants brought over from someone's garden that "went wild".
—Maryde and Larry King
OPPORTUNITIES FOR FUN AND FELLOWSHIP
EVERY SEASON!
First Presbyterian Church of Johnstown has an active Youth Group with special projects and events throughout the school year. One fun event was sledding.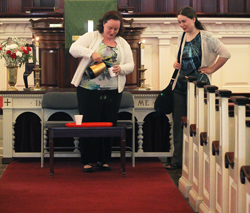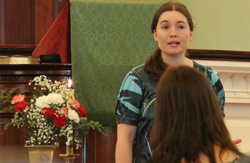 The New Covenant Players tell stories through a series of short dramatic
presentaions during worship