June Calendar
May 1 - Worship & Music meeting 7pm
AA meeting 8 pm
June 1 - Thrift Store 9-1pm
June 2 - Thrift Store 9-1pm
Free Lunch Saturday 11am
June 3 - Worship 10:30am
Communion
June 5 - Worship & Music meeting 7pm
June 6 - Building & Grounds 9:30am
Deacons meeting 6:30pm
June 7 - Thrift Store 9-1pm
Lazy 8's meeting 6:30pm
June 8 - Thrift Store 9-1pm
June 10 - Worship 10:30am
Christian Ed meeting 11:45am
June 11 - Eastern Star meeting 4:30pm
June 12 - A.F.P. meeting 6pm
June 14 - Thrift Store 9-1pm
June 15 - Thrift Store 9-1pm
June 16 - VBS meeting 9:30am (First Presbyterian)
June 17 - Worship 10:30am
June 19 - N.C.W. meeting 5:30pm
June 20 - Men's Group meeting-pot luck BBQ
June 21 - Thrift Store 9-1pm
June 22 - Thrift Store 9-1pm
JHS Baccalaureate 6pm
Johnstown Reformed Church
June 28 - Thrift Store 9-1pm
June 29 - Thrift Store 9-1pm
June 30 - Free Lunch Saturday
July 1 - Communion
Worship 10:30am

(Check the Weekly Bulletin for current events or changes)

MOVING UP SUNDAY
Sunday, June 10
Celebrating our kids and teachers
SAVE THE DATE for PICNIC
The Men's Group is sponsoring this year's
Church Picnic which starts at 5PM on June 20 — Rain or shine!
Please bring a side dish to share.
Children's games provided by Christian Ed.
BACCALAUREATE
for JOHNSTOWN HIGH SCHOOL
Baccalaureate will be held on June 22 at 6pm
at the Johnstown Reformed Church, 351 North Perry Street.


JULY CONFERENCE TO BE HELD IN OUR CHURCH
The New York State Council of Churches will host a dynamic three-day conference, "The Church as a Catalyst for Community Renewal: An Urban-Rural Dialogue" in Johnstown, July 10-12. The event will be held at the First Presbyterian Church, 37 S. Market St.
For more information, please CLICK HERE.
To register, please CLICK HERE.
Coffee Hour Group Schedule through September 2018

June
3 - New Century Women
10 - Men's Group
17 - Session
24 - Brithday Celebration - Deacons
July
1 - Mission, Outreach & Youth
8 - APF
15 - Christian Ed
22 - Building and Grounds
29 - Birthday Celebration - Deacons
August
5 - Worship and Music
12 - New Century Women
19 - Men's Group
26 - Birthday Celebration - Deacons
September
2 - Session
9 - Mission, Outreach & Youth
16 - APF
23 - Christian Ed
30 - Birthday Celebration - Deacons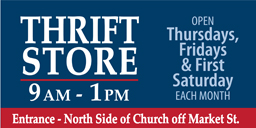 COMMUNITY THRIFT STORE
The thrift store has relocated to the basement of our church. We are asking for people to work in the store. If you could just give 4 hours of your time each month on either Thursday or Friday, this would be a great help to us. If enough people help, we would not have to work more than once a month.
It will be greatly appreciated.
Thank you,
— Mona Cole
COMMUNITY LUNCH
We can always use a helping hand on the first and last Saturdays of every month. You get back more then you give when helping others.

EXPANDED HOURS FOR JOHNSTOWN'S FOOD PANTRY
The Council of Churches Food Pantry is expanding its hours of operation to include every Wednesday from 4:00 - 6:00. If you are interested in volunteering oneWednesday a month, please call Roger Rhodes (256-5766) or Carol McGrattan (774-8780).