September Calendar

Sept. 1 - Communion Servers — 10:15am
Worship - Communion — 10:30am
Sept. 2 - Labor Day, Office Closed
Sept. 3 - Worship & Music meeting — 7pm
AA meeting 8:00pm
Sept. 4 - Deacons meeting — 6:30pm
Sept. 5 - Thrift Store — 9-1pm
Sept. 6 - Thrift Store — 9-1pm
Sept. 7 - Thrift Store — 9-1pm
Free Lunch Saturday — 11:30am
Sept. 8 - KICK OFF SUNDAY — 11:30am
Sept. 10 - Council of Churches — 1pm
A.F.P. meeting — 6pm
AA meeting — 8pm
Sept. 12 - Thrift Store — 9-1pm
Lazy 8's meeting — 6pm
Sept. 13 - Thrift Store — 9-1pm
Sept. 15 - Worship — 10:30am
CHURCH SCHOOL STARTS
Sept. 17 - N.C.W. meeting — 5:30pm
Session meeting — 7pm
AA meeting — 8pm
Sept. 18 - No Men's Group meeting
Sept. 19 - Thrift Store — 9-1pm
Sept. 20 - Thrift Store — 9-1pm
Sept. 22 - Worship — 10:30am
Sept. 24 - Building & Grounds meeting — 7pm
AA meeting — 8pm
Sept. 26 - Thrift Store — 9-1pm
Sept. 27 - Thrift Store — 9-1pm
Sept. 28 - Free Lunch Saturday — 11:30am
Sept. 29 - Worship — 10:30pm

(Check the Weekly Bulletin for current events or changes)

CHILDREN'S EDUCATION
Sundays, 10:45 am - 11:30 am beginning September 15
COFFEE HOUR SCHEDULE
SEPTEMBER
1 Session
8 Mission & Outreach
15 AFP & Stewardship
22 Education
29 Deacons
OCTOBER
6 Buildings & Grounds
13 Fellowship & Worship
20 New Century Women
27 Deacons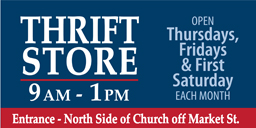 COMMUNITY THRIFT STORE
We are asking for people to work in the store. If you could just give 4 hours of your time each month on either Thursday or Friday, this would be a great help to us. If enough people help, we would not have to work more than once a month.
It will be greatly appreciated.
Thank you,
— Mona Cole
COMMUNITY LUNCH
We can always use a helping hand on the first and last Saturdays of every month. You get back more then you give when helping others.

EXPANDED HOURS FOR JOHNSTOWN'S FOOD PANTRY
The Council of Churches Food Pantry is expanding its hours of operation to include every Wednesday from 4:00 - 6:00. If you are interested in volunteering oneWednesday a month, please call Roger Rhodes (256-5766) or Carol McGrattan (774-8780).