Missions
OUR MISSION STATEMENT
The members of First Presbyterian Church (U.S.A.) of Johnstown, believe that we are called to be the people who embody the love of God in Jesus Christ thereby becoming covenant people in who Christ again lives. We will work especially hard to provide programs for youth, educational and informational programs for the community (i.e. Parenting, aging parents, family issues, Habitat for Humanity, the Food Pantry, Hospice) and tending to people with special needs through in-home visitations and providing spiritual care in area nursing homes. We will plan and celebrate a Spirit filled, prayerful worship service each Sunday and we will provide Christian education for children and adults. We care about the connectional church and we will participate in Presbytery, Synod, General Assembly governance through prayers, financial resources, and serving as delegates and commissioners. We will participate in local ecumenical programs (i.e. Johnstown Council of Churches) and support global church reconciliation through the World Council of Churches.

FREE COMMUNITY LUNCHES
will be served on Saturdays, October 1 and 29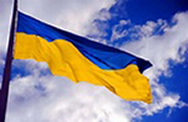 MANY THANKS to all who donated items or money for Ukrainian support last month. We packed the donations for Ukraine into boxes for shipping on Sunday, September 11.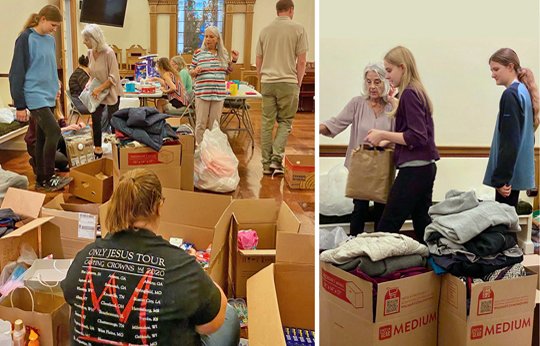 Packing the items donated for Ukrainian support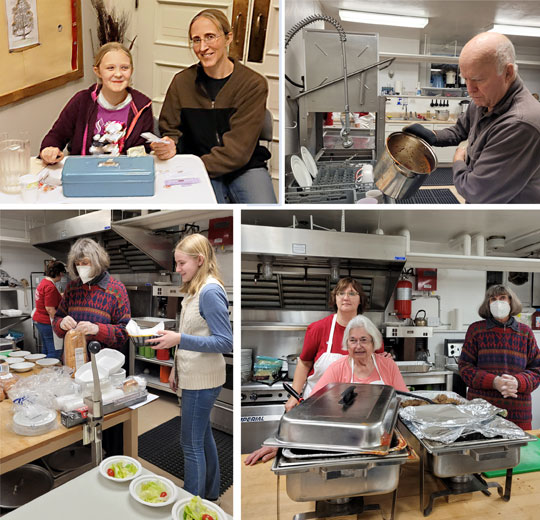 Volunteers prepare meals in the Church kitchen and Fellowship Hall
DEACONS READY TO HELP
Prayer Chain Group
• The Deacons have updated the Prayer Chain. If you would like to be on the prayer chain, please call the church office (518)762-8263 and leave your name and phone number. Once the Prayer Chain has been revised your name will be added and you will receive a list. As a prayer chain member, you will receive a call and be asked to pass the prayer request on to one other person.

• If there is anyone who would like to attend church services but is unable to drive, please call the church office (762-8263).
Prayers are asked for some members of our congregation who are not feeling well. Remember we are here if anyone needs us. Please contact a deacon or the church office to ask for help.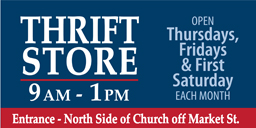 Thanks to all our volunteers!
OUR COMMUNITY THRIFT STORE
is doing well, but we really could use more help. Just four hours now and then. The job description is as follows:
1. Open the store
2. Sit by the desk
3. Assist customers
4. Cash them out
5. Close the store at the end of the day
Please consider volunteering. A sign-up sheet is on the side table in the Knox Chapel.

OPEN Thursdays, Fridays & the first Saturday of each month 9am-1pm. Entrance is on the north side of church, just off S. Market St.
The Thrift Store has returned to its regular schedule. WE NEED YOU TO COME AND HELP! If you can volunteer ANY amount of time, please call us at 518-762-8263. This vital ministry needs you
ONE CHURCH FOOD PANTRY
Here is a list of needs this month. If you can purchase and donate any of these items it will be deeply appreciated. Drop them off in the box at the church and our Deacons will deliver them.
Oatmeal (any kind), jelly/jam (strawberry, raspberry, blackberry), pancake mix, canned pineapple, canned chicken, muffin/cornbread mixes.
Also consider preparing a "Birthday Box"— information below.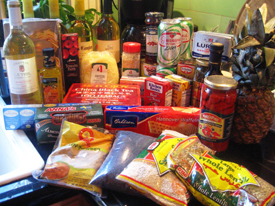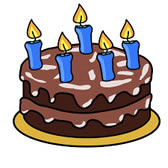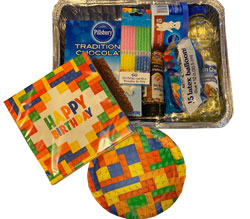 BIRTHDAY BOXES
Help someone celebrate their special day! First Presbyterian Church in cooperation with the One Church Food Pantry would like to provide a birthday box for clients' children.
What goes into a birthday box?
1 boxed cake or brownie mix
1 appropriate size foil pan(s)
1 tub of icing with sprinkles
1 small bottle of vegetable oil
Assorted birthday candles, party napkins, hats (optional)
Put all items together in the foil pans or in a box or bag and deliver to the church office. We will deliver to the Food Pantry when we drop off our monthly donation.

INFORMATION & RESOURCES
Check out the links below for information about the Presbyterian Church in our area, in our country and around the world.
Presbyterian Church (U.S.A.) www.pcusa.org
Presbyterian News www.pcusa.org/navigation/news.htm
Presbytery of Albany www.albanypresbytery.org
Presbyterian Outlook http://www.pres-outlook.com/