MISSION OF THE MONTH FOR JUNE
CITY MISSION OF SCHENECTADY

Founded in 1906, we are dedicated to sharing the Gospel of Jesus Christ in word and deed.

Our ministries seek to comprehensively meet the needs of the poor in a manner that dignifies and strengthens the individual, the family, and the community.
Our goal is to provide not only HELP for today, but HOPE for tomorrow. We want to help people who are in need right now by meeting basic needs like food, shelter and clothing. Providing these life essentials are at the core of who we are.
In addition, our hope is that we can do more than just meet basic needs... we want to transform lives. Together, we can help people begin to dream again and think about what they want their future story to look like.
We help those future stories come true by providing spiritual guidance, counseling, training, classes, life and job skills training and so much more!

Get more information at:
http://citymission.com


LOCAL MISSION & OPPORTUNITIES

HOMEGROWN FOR HEROES
Broadalbin First Presbyterian Church is connected to this organization and is promoting the sale of their meat products to help with their mission. The pork and chickens are amazing! If you would like more information, go to their website, vets2farm.org or call Pastor Linda at
883-8086. She is a member of Vets2Farm Board of Directors and currently serves as Secretary.
Homegrown for Heroes is a veteran serving veteran organization, meaning a majority of our staff and board are veterans themselves. Who better to understand the needs of a veteran than a veteran? We pride ourselves on this major factor that sets us apart from other non-profits. Vets2Farm is located in Little Falls, NY. and is a 501 (c) (3) non-profit organization built for the purpose of providing disabled Veterans a place to heal, farm, grow and give back.

CHANCEL FLOWERS
Thank you to everyone who participates in placing a flower arrangement for
our Sunday Services.

ELIZABETH CADY STANTON
HOMETOWN ASSOCIATION
is seeking gently used career clothing to help women who are re-entering the workforce dress for work. Drop off clothing at One Church Street M-F / 9-12.
The Sunflower Shoppe is now open on Wednesdays at 37 W. Main St., Johnstown.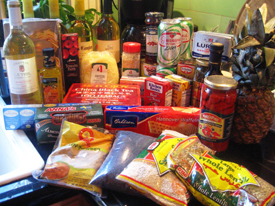 Items for the Johnstown Food Pantry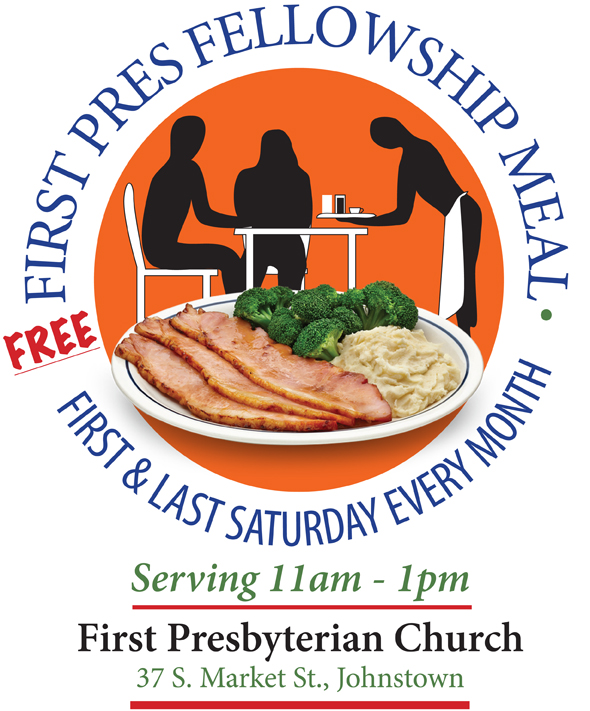 ,
OUR MISSION PARTNERS
Dr. Les & Cynthia Morgan
Missionaries in Bengladesh
COMMUNITY THRIFT STORE
The thrift store has relocated to the basement of our church. Enter the store on the north side of the church off Market St.

We are asking for people to work in the store. If you could just give 4 hours of your time each month on either Thursday or Friday, this would be a great help to us. If enough people help, we would not have to work more than once a month. It will be greatly appreciated.
Thank you,
—Monda Cole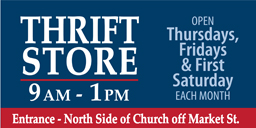 Missions
NOTES OF THANKS
Doctors Without Borders and Berkshire Farm & Youth Services
Thanks to everyone at First Presyterian Church of Johnstown for the generous donations!

JHS Post Prom Committee, extends their sincere thanks for our generous donation.

ADMINISTRATION, FINANCE & PERSONNEL COMMITTEE
The Administration, Finance, and Personnel Committee wishes to thank everyone who has pledged to support the Capital Campaign. As you may know, we are trying to restore the endowment funds which the church had to borrow from in order to pay for emergency building maintenance (boiler and roof replacements) as well as to fund additional capital projects such as updating the malfunctioning sound system.

The Capital Campaign has received twenty-one pledges totaling about $48,000. The campaign runs from 2017-2019. If you have not pledged and wish to do so, it is not too late. Contributions may be given monthly, yearly or as a one-time gift. You may choose whichever way you find to be convenient for you. If you need a pledge card for the Capital Campaign, there are some in the pew racks or you can contact the church office..
—Jane Smith & Carol Larter

OUR MISSION STATEMENT
The members of First Presbyterian Church (U.S.A.) of Johnstown, believe that we are called to be the people who embody the love of God in Jesus Christ thereby becoming covenant people in who Christ again lives. We will work especially hard to provide programs for youth, educational and informational programs for the community (i.e. Parenting, aging parents, family issues, Habitat for Humanity, the Food Pantry, Hospice) and tending to people with special needs through in-home visitations and providing spiritual care in area nursing homes. We will plan and celebrate a Spirit filled, prayerful worship service each Sunday and we will provide Christian education for children and adults. We care about the connectional church and we will participate in Presbytery, Synod, General Assembly governance through prayers, financial resources, and serving as delegates and commissioners. We will participate in local ecumenical programs (i.e. Johnstown Council of Churches) and support global church reconciliation through the World Council of Churches.

THE MISSION COMMITTEE
Mission of the Month for June will be the City Mission of Schenectady

I stopped by the mall the other day. This mall's been struggling, and the owners are striving to convert it to a "Destination Location". I had a destination, and I knew what I needed. But I was walking past the other shops since after all, I knew what I needed and it wasn't in them. So I was walking past the shops and one of the displays caught my eye. This wasn't a shop I would normally visit. I definitely wouldn't have made a trip just to stop there. I knew it didn't have what I needed. But the display caught my eye so I stopped in.

What drew me in was nice on its own, but not what I needed. Since I was there, and had some time, I decided to look around a bit more. Several times I nearly left, but then I saw something else that drew me in deeper. In the end I left with several items that I never knew I had been missing. Turns out, the shop had plenty that I needed. I'll be sure to stop in again.

We have a very visual display in the church building, but it is a church building. People think they know what they will get if they step through the door. Because of that, many people walk right by. What can we offer that people think they might need? What will cause them to step in the door that first time? What will draw them in a step or two deeper?

Maybe in providing opportunities to stop in for what people think they need, they can find what is truly missing.
Re-occurring - Because a single event is nice, but can be quickly forgotten.
Located at the church - I would like to establish the habit of stepping thru our doors.
Not a Hand-Out, but a Hand-Up –
I don't want to help people just get by, I want to help them do better.
Startup effort –
I'd prefer to work with an established program that we can build off of and
leverage for advertisement without re-inventing the wheel.

Do you have a suggestion we should look at?
The last mission committee meeting discussed:
The possibility of hosting a "Financial Peace University" class, and sponsoring a number of memberships – this was tabled for further research by the committee members.
Aiding with the summer school lunch program - Due to construction at the school there is a lack this summer with nothing available community wide during the week. This would be a bag lunch program available for pickup once a week for 4-8 weeks over the summer. Volunteers would be needed for 1 day a week for about an hour to help pack lunches and an hour to hand them out. Contact the Church office if you would like to help make this program possible.
Hosting a community game night—
A recurring evening event where anyone is welcome to come, build a sense of community, and provide an alternative to some of the other Johnstown evening pastimes. This has advanced to session and has been approved.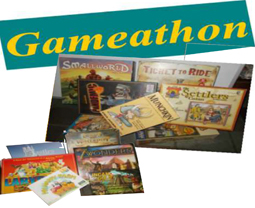 Spend your summer nights sitting around watching reruns of reality TV
OR...
Bring some friends or make new ones while playing board games. Try something on hand or bring your own favorites.
ALL ARE WELCOME
6 pm Fridays
June 9 & 23 and July 7 & 21

Our Free Lunch to the neighborhood has expanded from Once A Month to TWICE A MONTH! This program/ministry is making a difference in our neighborhood. It is not just food that people are enjoy, but the companionship around the table is a joy to see and experience. Of course, another benefit to this expansion is another opportunity for you to participate in mission. Please prayerfully consider helping out at our free lunch program and contact Helen Thompson for details.

—Brett Dening

DEACONS READY TO HELP

Prayer Chain Group for 2017.

Do you need prayers or know of someone who might? Kindly call the church office or any of Prayer Chain members with your prayer request: Ruth Carey, Donna Chizek, Mona Cole, Liz Custer, Carol Hadcock, Jane Smith or Donna Van Aernam.
If you would like to be a part of the Prayer Chain, we would be happy to add you to the list.
If there is anyone who would like to attend church services but is unable to drive, please call the church office (762-8263).
Prayers are asked for some members of our congregation who are not feeling well. Remember we are here if anyone needs us. Please contact a deacon or Joanne at the church office to ask for help.

COMMUNITY FREE LUNCH PROGRAM
Our Free Lunch to the neighborhood has expanded from one Saturday a month to two Saturdays each month! This is wonderful! This program / ministry is making a difference in our neighborhood. It is not just food that people are receiving. The companionship around the table is a joy to see and experience.
Of course, another benefit to this expansion is another opportunity for you to participate in mission. Please prayerfully consider helping out at our free lunch program and contact Helen Thompson for details.
JOHNSTOWN FOOD PANTRY
The Twin Cities Council of Churches has asked all churches for help with the Food Pantry all through the year. There is a wooden chest in the vestibule for your convenience. Please take a moment to share with the less fortunate in our community. Your thoughtfulness will be appreciated by all concerned. If you have any questions please call the church office. Again, thank you for helping us with this important task.
EXPANDED HOURS FOR JOHNSTOWN'S FOOD PANTRY
The Council of Churches Food Pantry is expanding its hours of operation to include every Wednesday from 4:00 - 6:00. If you are interested in volunteering one Wednesday a month please call Roger Rhodes (256-5766) or Carol McGrattan (774-8780).

Some items needed are:
Peanut Butter - Jelly - cereal - instant oatmeal - canned fruit - spaghetti sauce - tomatoes - meals in a can - (stew, ravioli, spaghettio's, or boxed hamburger helper, etc.)boxed macaroni and other types of pasta, canned meats - tuna, chicken. All food items must be non-perishable. Plastic and cans are preferable over glass jars.

INFORMATION & RESOURCES
Check out the links below for information about the Presbyterian Church in our area, in our country and around the world.
Presbyterian Church (U.S.A.) www.pcusa.org
Presbyterian News www.pcusa.org/navigation/news.htm
Presbytery of Albany www.albanypresbytery.org
Presbyterian Outlook http://www.pres-outlook.com/